Hoops for Fitness
By Ciara Green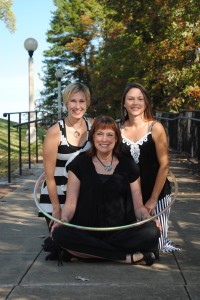 After a long day of fulfilling work, family responsibilities, and the added seasonal stress of the holidays, working out can seem like the final step that sends you into a never-ending hibernation. After all, who has the energy to workout, especially at this time of the year? What if you knew there was an innovative way to keep the winter weight off while having fun? Hula hoopers Robby Lewis, Ann Kirkwood, and Victoria Laviolette have found a way and created a business that offers a fun way to stay healthy. In 2008 these ladies launched Hoops for Fitness servicing the greater Birmingham area with hula hooping lessons, parties, and performances.
The beauty of the simple movements with a simple tool immediately intrigued Lewis when she stumbled across a girl with a super sized hoop about 12 years ago at a festival. After learning more about the hoop, she found that it physically transformed her and removed the negative connotations that came with fitness. She was hooped! Now she is able to inspire others by showing off her skills with a hoop, and they are truly inspired. After attending just one of Robby's classes, Ann fell in love with hooping and says that starting Hoops for Fitness is one of the best decisions she has made.
Kirkwood feels that hooping fits right in the with Birmingham community because of the diversity it holds.  "No matter who you are and what your interest there is a place for you," she exclaimed. Kirkwood has lived in Birmingham since 1968 and swears to never leave! Laviolette agrees because she also wants to build the hoop community by sharing the joy she experiences within the hoop.All three of these women are passionate about hooping and truly believe with one taste of the joyous activity and incredible physical results, your holiday sweet tooth can be transformed into a fun fitness crave.