Brighten Up Rainy Days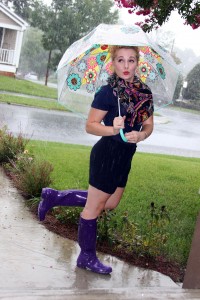 Dreary days do not call for dreary fashion. So, brighten up the forecast with a cute outfit and colorful rain boots! Whether you are skipping off to catch the bus or splashing your way to the office, here are some helpful hints to keep in mind when styling your next rainy day look.
Find a cute, quality pair of rain boots that will easily pair with a variety of items in your wardrobe and survive running in the rain.
Do not be afraid to dress up your wellies! Try pairing them with shorts, skirts, and dresses for rainy day fashion fun.
If it is scheduled to rain all day, create a slouchy yet sweet outfit with your rain boots and style your hair in a messy up-do.
Pack an extra pair of comfy flats in your bag or car just in case the sun decides to pop out.
When it is cold and rainy outside, wear colorful polar fleece socks with your rain boots.