"Picking Up a Bit of Community"
by: Cassie Bondie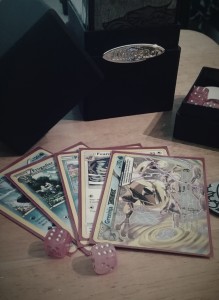 With more than 700 likes and a perfect five-star rating, Card Addicts – a card and game store located in Pelham, Alabama – needs no introduction.
"Clean, family friendly, great prices and wonderful staff!" Paige McAndrews Deal, a Facebook user and Card Addicts patron, wrote in a review. "Great environment for first-time gamers or a weekly haunt for experienced gamers looking to improve."
Husband and wife duo, Ethan and Jennifer Brackner purchased Card Addicts in early 2017. As new business owners and community members, they encourage potential customers to enjoy the many events and outreach programs they offer. These programs include weekly tournaments for Pokemon, Yu-Gi-Oh, Magic: The Gathering, Cardfight Vanguard, and Force of Will.
When asked to describe the store, Brackner was prepared.
"We hold tournaments for all major TCGs (Trading Card Games), as well as many lesser known ones. We have seating for over 100 and, on any given weekend, you're likely to find most of those seats filled with people playing games, trading cards, or just having a good time with old friends – or making new ones!"
"We are also in the process of picking up another card game," Brackner said. "UFS: Ultimate Fighting System."
In addition, Brackner has organized Beyblade tournaments and hopes to hold video game tournaments in the future.
But ongoing tournaments aren't the only focus of the new owners.
"We have lots of lofty dreams and hopes for the shop," Brackner said. "The first two "expansions" we want to make are picking up the suite next door to ours to add more table space…[as well as] pick[ing] up a large van to take my players to larger tournaments out of state."
Brackner explains that his interest in buying Card Addicts was rooted in a decade-long interest in Pokemon.
"I'd played Pokemon cards off and on for the last 20 years," he said. "My son decided to pick them up about three years ago…during that time we looked for an FLGS (Friendly Local Game Store) and found Card Addicts."
"We picked up a little bit of an existing community when we took over," Brackenr said. "But it seems that, for the most part, they enjoy us as the new shop owners. I make it a point to stay engaged with my community here and know what else they enjoy outside of card games."
Card Addicts is located at 2015 Valleydale Rd, Pelham, Alabama 35244. Call them at 
(205) 443-8060.
Visit them on Facebook by clicking here.