"Community and family oriented, Birmingham is always growing, but still maintains a family feel. It is a great place to raise children!", stated Mrs. Diedra Moore when asked what she loves about Birmingham.
Mrs. Diedra Moore graduated with a degree in business from the University of Alabama. After five years dedicated to corporate America, Mrs. Moore could no longer ignore her love for cooking.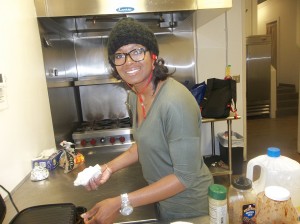 Fast forward to today, Mrs. Moore is cooking up a storm!  Her attention to detail and eye for perfection is what sets her apart from other caterers. She handles everything from start to finish. Her and her team work together to make entrees for any occasion.
Let's rewind to the past. Diedra Moore dreamed of owning her own business and desired the flexibility being your own boss granted an individual.  One degree from the Art Institute of Chicago and a move to Birmingham later, Impeccable Taste is here in The Magic City!! Although, Impeccable Taste was not an overnight success, Diedra stated hard work definitely was the reason for her success.
  Fun Fact: In addition to cooking Mrs. Moore loves snorkeling.
When asked for words of wisdom for future entrepreneurs Mrs. Moore stated, " Don't give up on your dream! There will be ups and downs but don't give up too quickly. If it is truly important to you then you can't be easily deterred. People give up too quickly. Anything woth having is worth fighting for.
Impeccable Taste can be contacted through their website (http://www.impeccabletastebham.com/#/), email (impeccabletatebham@gmail.com, and social media (impeccable taste catering and event planning on Facebook) (ChefDiedra on Instagram).