The Tragic City Rollers of Birmingham
By Laurrel Allison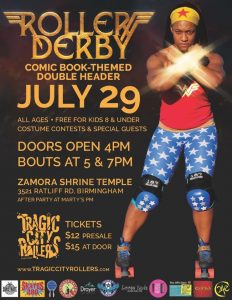 Earlier this week, I had the opportunity to speak with Rachel "Road Rach" Doak-Fallin of the Tragic City Rollers.
"Anyone can do derby," Rachel illustrated. "Any body type, size, age, and skill level." She went on to explain that there are plenty of people who begin roller derby without any skating or athletic background. "All it takes is determination," spoke Rachel optimistically. "And time. Put those in and it will come."
Derby is something a person does for themselves. Derby can lead to community involvement, charity volunteering, and being a positive role model for others.
Women enjoy continuing derby for many reasons. They're attracted to the competitive aspects, teamwork, and friendship which develops. It's also a great way to keep fit.
Roller derby is a full contact, sanctioned sport. "We practice at least six hours a week," explained Rachel. "There are hundreds of teams across the U.S. and the world. All of them are playing by the same rules and governed the same way under the Women's Flat Track Derby Association."
Home bouts for the TCR are held at Zamora shrine temple in Irondale. Zamora also benefits TCR's charity. This year, Tragic City Rollers has partnered with Girls Rock Birmingham.
Several times a year, TCR holds recruitments for anyone willing to give derby a try. "Keep your eyes peeled in social media or our website for 
the dates," advised Rachel. "For weeks, we teach how to skate, stop, and fall. No one takes a hit or makes contact until they pass assessments. Safety is a big concern."
Derby is not without its injuries. It's an intense sport which can take time away from family, jobs, and social life.
"Personally, I would rather break than rust," Rachel quipped confidently.
You can check out the Tragic City Rollers on July 29th. Buy tickets online for TCR's upcoming bout or at the door for $15.
thanks for reading,