VIP Style Guide
by: Abby Hathorn

Update Your Summer-to-Fall Wardrobe with One Key Piece
If your summer-to-fall wardrobe is in need of a serious style update, no need to fear because a simple
leopard blouse is sure to do the trick. Whether you are off to the office or off to your favorite downtown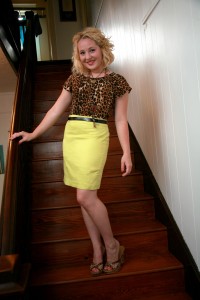 venue, leopard adds a sassy strength to any ensemble. Oh, yeah—girl power!
For the Office: Add a sprinkle of cheer to the boring workplace by styling a leopard blouse with a colorful
yet refined pencil skirt in solids like lime, pale pink, or eggplant. Keep your accessories minimal with a
locally handmade necklace and a few bracelets.
: Be bold and a bit brash by styling a leopard blouse with bright and complimenting
separates for a wild-card look that is sure to catch the eye of bystanders. Before skipping out the door in
a daring pair of heels, do not forget to pull the entire look together by layering on a variety of gold and
bronze jewelry pieces.