5 Places to Get Local Ice Cream in Birmingham
by Jomo Merritt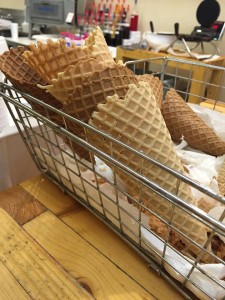 In the mood for ice-cream but don't know where to go? Well, don't worry, Here, Red PaSH presents the top five artisanal, interesting and sentimental local ice-cream places in Birmingham
Big Spoon Creamery
If you're looking to cool down a bit, or just cure that sweet tooth, look no further, Big Spoon Creamery has got you covered. This is an artisanal ice cream business that makes small-bunch, homemade ice cream and delicious ice cream sandwiches. So, don't be shy grab you their delightful five-dollar Ice cream sandwich, or dive into their pints for eight dollars.
Ono Ice
Let's not forget about this exotic masterpiece. If you haven't been to Hawaii, don't bother. It's right here in Birmingham. Ono Ice is a shaved ice pop-up stand that is Hawaiian, started by owner Rebecca Davis. Everything is from scratch and 100% natural ingredients.
Urban Pops
If you're looking for ice cream popsicle with the exclusive flavors of South Asia and India Hoover-based Urban Pops is the spot. They also have their old-style, American savors, like their well-liked cookies 'n cream and watermelon. So, go and relish your old favorite or diversify and bite into the flavors of another culture at Urban Pops!
Sweet Bebe's Ice Cream Pops
This mom-and-pop shop will give you the sugar rush you need. Sweet Bebe's Ice cream pops does it farm made with fresh ingredients. Most of the creamy pops are hand-dipped in chocolate, and you can sit down and enjoy them on their popsicle stick benches.
Mountain Brook Creamery
This old-style ice cream spot has been a favorite for years. They have over 300 flavors to select from. Their ice cream cakes are also extremely trendy. You don't want to miss it so go and grab a cone.